As a therapist, I work with people all the time helping them "set limits" or structure their time accordingly for self-care, focusing on helping them achieve balance in their life.  Being self-employed, I've had to remind myself of my own advice.  I'm currently in the office only 3 days per week – which, on paper, looks like I'd have  A LOT of free time.  I wish!! I just ended a 5 hour writing session for a 1-day class I'm teaching in a few weeks.  I thought it was going to take about 3 hours in total ….& I'm only halfway done!  Friday, I will spend a couple of hours completing my billing & making sure all my paperwork is done for the week.  I'm also working on some new marketing strategies that I need to develop which will involve: phone calls, personal meetings, letter writing, maybe a free lecture or two, & designing new cards & brochures.  In the end, I pretty much work at least a little bit 6 days a week. I truly try not to touch work materials on Sundays, but I won't say that keeps my mind off of thinking about work.  I'm fortunate in that I  can only be in my office 3 days per week so that I have the time to be the one-woman-show that I am and work on all the background items that keep me running & generate new business.  I do find time to spend with my husband, exercise, and fuss around with my garden so I feel that I have a fair balance in my life, but all this got me thinking about people's expectations of being self-employed.
If you are self-employed (1 person business or a small venture), what were some of the biggest surprises/adjustments to your life that are due to being self-employed?  What are ways that you separate yourself from your work?  If you were to be given a "do-over" would you have changed anything about the employment path you chose?
For the record, I would never change anything about my decision to be self-employed, but I have learned some lessons along the way about how to do it!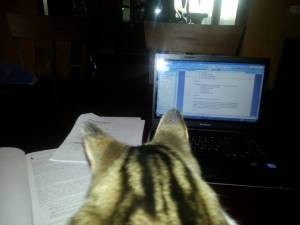 This is my little sidekick Monstar who is always willing to help me work!