It's tough to manage all the chaos around us. How are you doing?
The pandemic hit. Lots of trauma hit with that  – loss of stability, uncertainty, fear.  For many of us, we have felt fragile and concern. There are our own fears and then there is the concern and empathy for others who may be even more affected than we are. For those who have struggled with addictions, this has been a really trying time. And then there are those who were contemplating doing something about their alcohol use and then when the restrictions hit, getting help seemed out of reach. Addiction counseling may have seemed out of reach.  Within a month of the Coronavirus pandemic hitting the U.S. there were reports that sales at liquor stores were up by 30% compared to last year. There were/are a lot of people managing their emotions with alcohol, pot and other substances. We are a few months into life though the pandemic and with many business reopening, there is still some uncertainty around us, how to get back to life in the age of a pandemic, and where to turn for support.  You may not even know if therapists in San DIego, or wherever you live, are open for business. We want to help. Coaching Through Chaos is now offering counseling through telehealth methods. Substance Abuse counseling, relapse prevention planning and family case management are all now at your reach by phone, Skype, zoom and Facetime.
What is Telehealth?
Telehealth means that we provide our counseling services over electronic devices.  This means you can meet with your counselor over Zoom, SKYPE, FaceTime, and phone calls. For people who have been hesitant to get started, or didn't know if therapists were seeing clients currently, this provides so much access to support to get your life balanced and to help you come out from your stay-at-home order with a brighter outlook regarding your mental health.
       Is Telehealth Effective in treating Mental Health and Addiction Therapy?
In a review of literature on the research of effectiveness of utiilizing telehealth services for behavioral health (including treating substance use disorders with addiction counseling) a conclusion was reached that "Telemental health care can provide effective and adaptable solutions to the care of mental illnesses universally. While being comparable to in-person services, telemental health care is particularly advantageous and inexpensive through the use of current technologies and adaptable designs, especially in isolated communities.".  Those researchers further added that "This review strongly suggests that using telemental health care for psychotherapy and other mental services improves patient satisfaction and reduces the costs of care. Almost all of the associated technologies can be effectively used to evaluate and analyze mental disorders while monitoring the quality of service".  .
In another article on HealthIToutcomes.com, researchers found that , "Data show virtual mental health counseling is at least as effective — and in some cases, more than — treating depression as traditional face-to-face.Additionally, a four-year Johns Hopkins study that included close to 100,000 veterans found the number of days patients were hospitalized dropped by 25 percent if they chose online counseling. This is slightly higher than the number of hospital visits experienced by patients who used face-to-face counseling (Psychiatric Services, April 2012)."
      What you need to know about Telehealth
The future of providing medical services has shifted quickly. The future is here.  Telehealth for mental health has been studied since the early 2000s when the internet was still in it's infancy. Even early research has demonstrated that the use of telehealth for accessing mental health services has been seen as at least as effective, if not more effective, than traditional face-to-face in-person services.  It not only makes accessing the services easier – you can meet with your counselor from the comfort and privacy of your own home.  Another perk to accessing telehealth services is that it now opens up a vast array of providers you can choose from because now you are not locked into only someone local.  You can pick anyone who is credentialed in the state that you are in, this gives you more choices to find someone you genuinely want to work with.
Does this mean the traditional settings won't be coming back? Heck no! ut what it does mean is that there is now choices for both you and your provider for how your services are provided.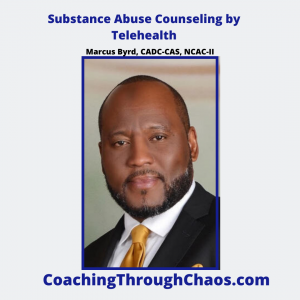 Meet Addiction Counselor, Marcus Byrd, CDAC-CAS, NCAC-II
For as much as I see people for all sorts of struggles around trauma, depression and chaotic relationships, my passion has been treating people who struggle with addictions – my philosophy has always been to meet my client where they are in readiness and see what blocks them from going further.  We call that meeting out clients where they're at.  Well, now, literally, we can meet you where you are at.  For those that don't know, a couple years ago I enlisted Marcus Byrd who is specifically a Nationally Certified Addiction Counselor to help support the demand for out-patient addiction counseling in San Diego.  Marcus has a passion, like mine, for helping his clients explore, gain insight about, and change the substance use behaviors that no longer work for them.
Marcus has been doing this work for many years now. He cares deeply about the outcome for his clients. He offers individual counseling, family counseling, and recovery case management services as needed. Overcoming an addiction is a very personal and tough journey to be on. The work, initially will focus on what you need. Marcus can also be of service to you if you have been feeling like your on-going sobriety is jeopardized because of the stress you've been under. He can work with you to help you re-organize your support structure, do some relapse prevention planning, and support you as you explore your own ways that you may sabotage your progress. He has a flexible schedule that includes weekends. If you are in the state of California, he can be available to you through telehealth. You can read more about Marcus right here
We are an Out-Patient Service. What does that mean for You?
We are not an "addiction treatment center" in that we do not house our clients, nor do we run Intensive Outpatient Groups. We are a private counseling practice which means you will start with a weekly, 45-minute appointment with your counselor. You will be assessed.  If we think you would benefit from other services, we will recommend them. Sometimes our clients who struggle with substance use problems really could benefit from more intensive services. Many times our clients just need a little extra support by way of groups or adjunctive therapies that could benefit them.  We will make the proper recommendations as we get to know you. We want to make sure you are getting what you need in order to best meet your needs for moving forward towards your recovery goals.
As you move through your recovery work, it may become important to incorporate your partner or kids. You may feel scared to get your loved ones involved, and that's OK and perfectly normal.  We want to know where you're at emotionally and we can work from there.  When you have partners or kids, it is often important that they also do some work along with you to help the relationship/family heal from the chaos that addiction brings to a home. The work often starts with the person struggling reaching out for help, and grows into helping the people closest to him/her understand the process of recovery and how relationship dynamics can affect the journey.
Addiction theapy in San Diego can now be done from  is now being provided by telehealth in San Diego and to all residents of California.
San Diego, San Francisco, Los Angeles, Sacramento. All major cities and suburbs throughout California have
Get help for your addiction now. We are ready to help.
Now is not the time to shy away from help. In fact, you may be in need of extra support now more than ever. There is external stress, social distancing, fear of catastrophic illness for ourselves and our loved ones has taken over. Now is the time to focus on getting as healthy in the mind and body as possible. If you've been struggling with your relationship with alcohol or other substances, there is help available.
For a session with Marcus Byrd, please call (619)881-0051. 
Resources:
Acta Inform Med. 2017 Dec; 25(4): 240–246.
https://www.healthitoutcomes.com/doc/the-role-of-telemedicine-in-mental-health-0001