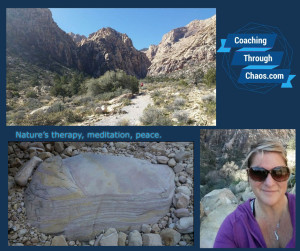 I went hiking the other day at Red Rock Canyon during a weekend away visiting friends in Las Vegas. One of my favorite things to do is to go hiking by myself. It makes me feel at peace, I feel more centered, and I end up feeling like I listened to my own need for silent connection with nature.
It was while on this hike, that I got reminded that our society tells us it's not O.K. to do things alone. Being that I am a therapist/coach by profession and I live with my husband and several other animals, I rarely get time alone. This weekend away was to celebrate a friend's birthday. I arrived in Las Vegas on Friday and met up with said friend and family. On Saturday morning I wanted to get out a do a decent-length quiet hike before all the birthday festivities began  – I was looking forward to taking in the desert air and scenery. The Red Rock Canyon has a 13-mile through road which has multiple trail heads along it. I purposely went to the visitor center to find out which trails may be less populated. I was instructed to head out to Ice Box Canyon trail head about 8 miles up the road. As I drove father away from the visitor center, I did find that the parking lots at the trail heads were less populated. I was excited to think I may be heading to one where I really could feel somewhat isolated.
According to the visitor guide, the hike was to take about 2.5 hours and be of "moderate" difficulty. Sounded great to me! I had water and a charged up phone packed in my bag. I was ready to go! I was about 20 minutes into the hike when I came across a group of people who were on their way back to the trailhead. I said, "Hello", in passing and moved out of the way for the group to get past me. One of the ladies asked me, "Are you by yourself?" When I told her I was, she let out a sympathetic, "Awwww!" I let her know I was out there alone by choice and was enjoying the quiet and continued on with my hike. About another 20 minutes pass by and I get to a section of the trail with some more difficult rocks to step/climb up and over. I ran into a party of 3 at this juncture. Again, one of the ladies in the group commented to me during a quick verbal exchange, "I wouldn't come out here alone". I again, assured her I actually looked forward to this experience and went about my business. It was about 10 minutes later that I came across some rocks that I did not want to venture up and over without help, so I turned around at that point and began my hike back to the starting point.
Both of these exchanges had me thinking as I hiked about our society's attitudes about being alone. I be no means am a "loner" or even an "introvert". In fact, I love social interaction and get plenty of it. I do however, enjoy some quiet times alone. Exercise is one of my regular ways to get that fill and when I have time, I love to find local hikes to try by myself. As a therapist, I talk frequently with my clients about finding time for themselves, often framed as "self-care" time. I explore with my clients ways in which they can take some time alone to regroup and touch base with themselves. For some, this can be finding time for a 5-minute mediation in the morning, or carving out 15 minutes during their work day to break away from all the "noise". On bigger levels, I help them discover what their needs are for personal time alone from others and help them plan that into their life. I think people understand that concept of "me time" or even "self-care" time, but I think something shifts when people think about doing activities alone. I also enjoy beaches, coffee houses (for quiet people-watching) and movies alone, but exercise feeds a lot of my emotional and spiritual needs so I tend to engage in that more frequently. For some, the 2 hour hike I embark on may be the equivalent of getting a massage and their nails done. Which, I assume if the same woman who gave me the sympathetic "Awwww!" in passing on the trail had actually crossed my path at the massage appointment; I don't think she would have asked me why I went there alone. 
Do you listen to your need for quiet when it calls? How do you connect with yourself when you need to? Feel free to leave a comment! I'd love to hear about what you do when you need to be alone.
P.S. I recognize that hiking alone can be dangerous. Please note that I take appropriate precautions, but I try not to live my life from a fear-driven perspective. No therapists were injured in the data-collection of this blog post