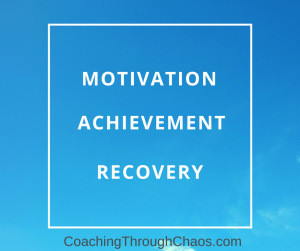 The work I do with my clients focuses on Motivation, Achievement and Recovery aspects of their lives.  I thought I would take a minute to explain this.
If you were to come to me with a change you want to make, the first place I'd start with you is assessing your Motivation to change.  You have already sought out my services, so you are aware of what you want, but you haven't yet been able to put any action into your change. I will assess and guide you through mindfully identifying and working through your obstacles to action until you are ready to put the change in motion.
The Achievement aspect of my work focuses on helping you design realistic and attainable short-term goals in addition to more grandiose long-term goals.  These goals will be measurable and designed to keep you motivated.
Recovery means a lot of things to a lot of people.  Traditionally, recovery refers to persons "in recovery" from addictions.  Yes, I do a lot of addiction recovery work with my clients, however, the term recovery can also mean recovery from a trauma, recovery from a relationship break-up, or recovering from some other type of loss.  Very often, we don't realize just how much emotional stress we carry around everyday which can block us in the area of motivation by way of emotional obstacles we need to overcome.
I see motivation, achievement and recovery as a cumulative work process.  If one does not recover adequately from traumas. break-ups, addictions or what have you, there will most likely be motivational blocks in the form of emotional obstacles (apathy, depression, panic or anxiety,etc.) which will leave you struggling to achieve the changes you wish to implement in your life.
If this connects with you and you'd like to find out more, please contact me through my website: coachingthroughchaos.com or call me at (619) 702-5571.
Please share this post with anyone you think may benefit from my services.  Thank you!
Best wishes for success!