Sasha Ginsburg, LCSW
~ the executive director and founder of WestsideDBT  talks about dialectical behavioral therapy, its applications and the programs offered by WestsideDBT.com. Learn more about these powerful tools to enhance emotional, interpersonal and behavioral regulation...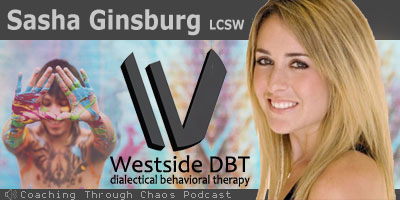 Podcast: Play in new window | Download (23.2MB)
Subscribe: Apple Podcasts | Android | RSS | How to Subscribe

How it started
The Westside DBT center was founded by friends and colleagues License Clinical Social Workers  Sasha Ginsberg and Erin Lotz.  Their doors opened almost 6 years ago.  They were initially a small clinic set up to treat those people suffering from interpersonal and behavioral dysregulation as well as people with chronic and persistent suicidal thoughts or behaviors.  They have grown in size expanding their practice to 2 locations and now treat all people ages 13 and up in need of emotional support, skills training to manage their emotions and cognitive support to help retrain the persons self-perception.  Sasha says they help people "build lives worth living". 
What is Dialectical Behavioral Therapy (DBT)?
DBT is a therapeutic approach designed in the mid-1980's by psychologist Marsh Linehan.  It was initially designed to treat people with Borderline Personality Disorder.  Borderline Personality Disorder is marked by a sabotaging pattern of behaviors often stemming from an extreme or unrealistic fear of abandonment, born out of an "attachment break" early in one's emotional life.  The DBT skills training approach allows these people to learn to manage the extremes of their emotions and implements mindfulness and self-soothing techniques in order to allow them to live lives with more emotional stability and emotionally healthier interpersonal relationships. For as much as DBT is still the "go-to" method for helping people with Borderline Personality Disorder, it has been demonstrated to be helpful to people with less clinically significant symptoms, allowing more people to access the method to reap the benefits of the skills training to help manage life's problems and relationship discord.
Dialectical Behavioral Therapy originated in Cognitive Behavioral therapy (CBT). It helps alleviate problems with regulating emotions, thinking patterns, and behaviors that cause misery and distress.  DBT combines both cognitive-behavioral therapy (Western principles and practices) and mindfulness approaches (Eastern principles and practices) to help people understand ,accept and change, patterns of living that are causing them suffering.  In understanding this approach one can see how many people can benefit from these skills.
Who Benefits from DBT?
(From the Westside DBT website)
DBT may help if you are experiencing the following symptoms:
Emotions
Heightened emotional sensitivity
Quick and intense emotional reactions
Slow return to normal mood
Chronic problems with depression, anxiety, anger or anger expression
Behavior
Repeated suicide threats or attempts
Self-harm behavior such as cutting and burning
Relationship difficulties including hypersensitivity to criticism, disapproval, intimacy or fear abandonment
Impulsive and potentially self-destructive behavior in areas such as binge eating and purging, alcohol or drug abuse, sexual promiscuity, and gambling or spending sprees
Thinking
Extreme (black or white) thinking
Difficulty with problem-solving and decision making
Unstable self-image or sense of self
"Detached" thinking, ranging from mild problems with inattention to episodes of complete dissociation
4 Modules of Dialectical Behavioral Therapy
DBT is designed to teach
1. Mindfulness Skills
2. Interpersonal Effectiveness
3. Distress Tolerance
4. Emotion Regulation
How is the therapy implemented?
Dialectical Behavioral Therapy is implemented through a combination of group and individual sessions over a set number of weeks.  A person can extend their treatment if necessary, but it is best effective when a person initially participates for the designated weeks of both individual and group sessions.
How to connect with the Westside DBT Team
Email: info@westsidedbt.com
Call: (310) 772-8118
website: westsidedbt.com