Dr Mark Wiederhold, VRMC
This interview features Dr Mark Wiederhold of the Virtual Reality Medical Center, with an emphasis on their virtual reality PTSD treatment for veterans.The Virtual Reality Medical Center has been treating patients for over 20 years, with high success rates. What first began with the application of VR technology to the treatment
of phobias, such as fear of flying, spiders or public speaking, has now branched into the treatment of Post Traumatic Stress Disorder (PTSD).
With so many of our veterans having seen active duty, the incidence of PTSD has increased alarmingly.
In this seminal podcast, Dr Mullen interviews Dr Wiederhold of the VRMC, and finds out about the exciting developments and therapeutic capabilities for our wounded warriors.
As part of this podcasting series, Dr Mullen will be dedicating one episode per month to services to help our Veterans and First Responders.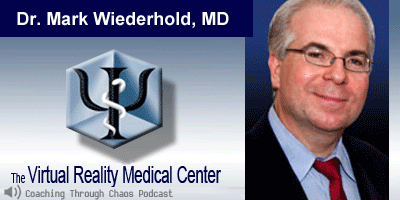 Podcast: Play in new window | Download (27.5MB)

Subscribe: Apple Podcasts | Android | RSS | How to Subscribe

Machine Transcript & Video:YouTube


Read the companion article about the Virtual Reality Medical Center PTSD Treatment for Veterans at the PriceOfBusiness.com  
For more information, please listen to the episode.