Craig McEwen
~ former tight end in the National Football League (NFL) for the Washington Redskins and the San Diego Chargers, he shares with us his experiences with TBI and new initiatives by the NFL / NFL Alumni to better protect younger players. As this week leads in to Super Bowl LI, between the New England Patriots and the Atlanta Falcons, take a moment to hear from a veteran player, member of a Super Bowl winning lineup, as he shares his story with us.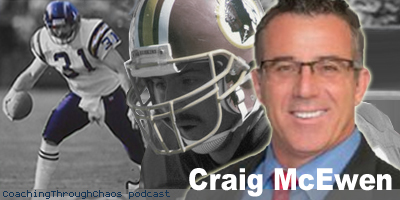 Podcast: Play in new window | Download (48.9MB)
Subscribe: Apple Podcasts | Android | RSS | How to Subscribe
Crossing the Line
Craig always dreamed of being a pro football player.  He didn't realize that his career would start by crossing the player's strike line, but that's what happened.  Craig was playing college football in Utah when he got the call from the Washington Redskins.  He would get the chance at the career he dreamed of, but to get on the field, he would have to sign on to play when the other players were on strike.  Craig jumped at the chance just to get on the field.  Once the strike was over, he was officially hired on.   He became part of the Super Bowl winning team in 1987.  From there, Craig was recruited to the San Diego Chargers where he spent the next 3 years.
Craig was what's referred to as  "lunch pail" player - he was one of the guys that knew he needed to stay focused and be a good member of the team - his role was not one of show boating - he was in it for the love of the game and the team.  His goal was to stay on the field, so he gave his all every time.  That fierce determination got Craig his years in the NFL, but it also plays a factor in the repercussions he now deals with due to his career.  When you give your all in a high-contact sport, you're bound to suffer some injuries.,  Everyone knows that, but what Craig didn't realize was that it would be the invisible injuries that affected him the most.  Craig's body took a lot of hits and rough tumbles during his years on the field.  He had to stop playing after neck, back and foot injuries.  After some back surgery, he even tried to make a comeback in the European league for a year, but his physical injuries prevented him from sustaining a career as a player.  Although Craig still has some physical difficulties, it was his head injuries that have most affected his life.
The Repercussions of Concussions
When Craig left the NFL, his life carried on pretty nicely for about 10-12 years: he has a long term relationship which produced a daughter, he owned a successful bar and then opened a personal training franchise.  Life was good.  But somewhere around 2011, Craig's life took a downward turn.  He had been dealing with some residual physical pain due to his bodily injuries and began self-medicating with alcohol and pain pills, he got into a bad business deal and lost any financial stability he had, and his relationship with his long-term girlfriend ended, so he was now alone, in pain, and lacked the insight to see past his current state of affairs.  That's when Craig started noticing how his mind and emotions were being affected.  He dealt with bouts of depression, foggy memory, inability to concentrate, forgetfulness, and felt hopeless after what his life was turning into.
A New Lease on Life
It was through his physical and emotional battle with himself that Craig discovered that the cognitive symptoms he was experiencing (depression, self-loathing, foggy brain, etc) were actually tied into his repeated head injury and his commons were symptoms of repeated concussions.  Since 2012, Craig has been seeking personal growth and healing.  He entered a treatment facility in 2012 to aid him with getting some perspective on his long-term symptoms and how to cope with them.  He followed this with seeking personal growth seminars, personal coaching, psychotherapy and educating himself.  Although Craig can be his own worst enemy (as many people who suffer with debilitating emotional symptoms can be to themselves), he is on a new, humble path in life.  He has dedicated himself to charitable service and advocacy for fellow athletes and combat veterans.
From Fallen Pro to President
Four years ago, Craig had the opportunity to breathe new life into the local San Diego Chapter of the NFL Alumni Association.  He became the President of the chapter and has dedicated all his efforts on behalf of the association to focus on coordinating charitable events to fund research into 1. Making football and other contact sports less dangerous, 2.  Helping combat veterans gain funding and access to medical and emotional health providers, 3.  Raising funds and donations to help kids in need, and 4.  To coordinate events with experts who can help the former players in any and all aspects of thier lives through actual assistance and through education.
Where to Next?
For as much as Craig still has some pretty rough days due to his symptoms, he is one of the most genuine and humble people around.  He knows telling of his tougher times can, and does, really help others.  Take a listen to hear Craig's story and all that is going on behind the scenes in research, playing football safer and the charitable work being done to not only those on the retirement side of their pro-ball careers, but also those currently playing and the future generations of players.  If you are interested in having Craig speak on your show or at your event or would like to get in touch with him to find out more, or to get involved and become an associate member of the NFL Alumni Association, he would be happy to hear from you.
This episode was truly inspiring to to me.......I hope it is for you too.
Resources:
Craig McEwen:  You can reach Craig at sandiego@nflalumni.org
Concussed:  This is a 18 minute documentary made in 2012 featuring Craig at his most vulnerable.  This was tough for his to do, but it did help him refocus his life and pushed him towards a brighter future.
Invisible Scars:  A book by Bart Billings, Ph.D. - this book takes an in-depth look at how to combat Post Traumatic Stress through alternative methods to medication.
---
Amazon has selected the following suggestions that may also interest you