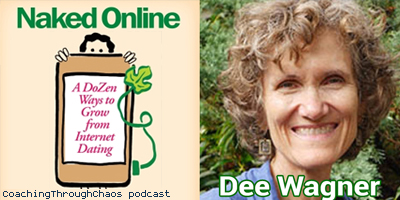 Podcast: Play in new window | Download (62.4MB)
Subscribe: Apple Podcasts | Android | RSS | How to Subscribe
Are YOU One of the 49 Million people in the US who have tried online dating??
I know I am! And I know most of the people I know who have been single in the past 5 years have as well - it seems that there is an endless number of website, apps and services dedicated to helping us find love from the comfort of our  living rooms.  There's Match, eHarmony, PlentyofFish, Zoosk, OKCupid, Craigslist, Tinder, Bumble, Grindr, Hinge ....just to name a few.  I don't know about you, but it can be overwhelming when you even start to think about the prospect of creating a profile- let alone one for all the sites you'd like to try.  My guest today not only found love through online dating, but she wrote a book on staying zen while doing it! Dee Wagner, along with Cathy Jernigan and Dee's partner John Cargill wrote "Naked Online: A DoZen Ways to Grow from Online Dating.  Dee was in the process of writing the book when she met John through her dating journey.  Dee is a psychotherapist, John's a designer and Kathy is a freelance writer.  Together, they designed a manual for keeping your sanity, managing your relationship anxiety and overall staying zen while exploring the universe of online dating. You can find them at LustierLife.com.
In this interview you'll hear about:
How the authors of Naked Online intended the book as a guidebook and how they envision their readers utilizing it
How a person can find their "zen" while engaging in the often anxiety provoking behavior of online dating
Why it's important to be in love with yourself as you write your online profile
The fantasy component to meeting someone online
The "Email Checking Addiction" and how to cure it!
Ways our attachment style informs our relationships
Why it's so difficult for people to talk about what they want sexually once sex enters their dating relationship
Why internet dating can feel lonely even though you may be swimming in a sea of dates!
Fun facts about Online Dating:
I found so many fun websites with facts & figures about online dating- I thought you'd get a kick out of them -
Here goes:
Pew Research - 5 Facts about Online Dating
The Richest - 20 Shocking Facts about Online Dating
Huffington Post - Online Dating Tips
Statistic Brain - Online Dating Statistics
Guest Resources
You can find Dee Wagner  at:
Website:  LustierLife.com
Twitter: @LustierLife
Amazon: Naked Online: a DoZen Ways to Grow from Online Dating
---
Amazon has selected the following suggestions related to internet dating that may also interest you