Joe Vim Whitcomb, MBA LMFT
~ CEO and founder of the Relationship Society, Joe Whitcomb is a Licensed Marriage and Family Therapist and Relationship Coach based in Santa Monica, California. He is the co-author of Reboot Your Relationship and has been coaching couples through relationship struggles for many years. He also conducts weekend retreats to equip couples with tools they need to go home and achieve more fulfilling relationships.
He is currently a doctoral candidate, furthering his studies into couples and relationships...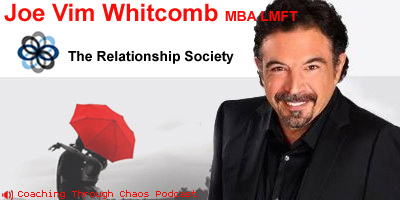 Podcast: Play in new window | Download (63.1MB)
Subscribe: Apple Podcasts | Android | RSS | How to Subscribe

Why Do We Need Relationship Experts?
What Joe does is so important. Anything someone can do to improve their relationship should be explored (Side note:  I would be remiss in not mentioning that when there is active domestic violence by one or both partners, or active substance abuse, relationship counseling or coaching is contraindicated. A professional can connect you to resources in your community in which each partner can work on those more pressing problems first before tackling underlying struggles around intimacy.)
Why, should we work on our relationships you ask? Well, although divorce rates for 1st marriages are not what they used to be (upwards of 67% in the 1990's), but the rates are hovering around 40-50%. The rates are even higher for 2nd and 3rd marriages. That also is a switch. A decade ago, if a person married 3 times, they would at least have a chance of that marriage lasting, but today those marriages have a fail rate of about 75% (http://www.divorcestatistics.org/). I Know, I know, not everyone gets married.  Cohabiting couples tend to report lower rates of relationship satisfaction, increased rates of financial stress and emotional instability**.  Newer research into marital satisfaction appears to be linked more to age of commitment than does whether a couple marries or just chooses to live together.  (If you're curious, couples that paired up later, rather than earlier in life tend to last the longest***).  As a marriage therapist, I see couples in all stages of conflict. For as much as we are all very different individuals, the basic needs for an intimate relationship are similar across demographics. It looks like we live in a world in which the union of marriage is taken lightly, but what I've observed is throngs of people who don't have the emotional equipment to fix what becomes broken.
In the interview Joe discusses:
• The "4 Types of Love" he says everyone needs in order to build a stable relationship.
• What it means to understand your Attachment Style
• How both men and women generally orient themselves around trust in a relationship
• The "Couple Bubble"
• What makes a great relationship
• Why it's so important for both partners to "do the work" on themselves in order to be more emotionally healthy in the relationship
• He gives us at least 2 strategies for more effective communication (We all need a bit of that at times!)
• How to better understand miscommunications when one person's intention is good, but the partner responds negatively.
Let Joe Help You
After listening to my interview with Joe, you may be happy to hear that even if you're not near Los Angeles, you can still get Joe's services. He provides online relationship coaching AND before you come to one of his full weekend retreats, you can attend his 1-day intensive, "Reboot Your Relationship" workshop. Joe's next 1-Day Intensive workshop is on Sat. Oct. 24 (call Joe for more information on time and exact location).
You can contact Joe directly at (310) 560-0726 or find him on his Facebook page The Relationship Society.
Reference Notes
**Georgina Binstock and Arland Thornton, "Separations, Reconciliations, and Living Apart in Cohabiting and Marital Unions," Journal of Marriage and Family 65, No. 2 (May 2003): 432-443.
***https://contemporaryfamilies.org/cohabitation-divorce-brief-report/
"Reboot Your Relationship: Restoring Love through Communication in a Disconnected World", Joe Vim Whitcomb and Savannah Ellis, 2013.