Quentin Hafner, LMFT
 ~ practicing in Orange County, Quentin shares tips on how couples can maintain their intimacy when they start having kids.
Check out Quentin's upcoming workshop
RE-CONNECTING
Begins July 01, 2016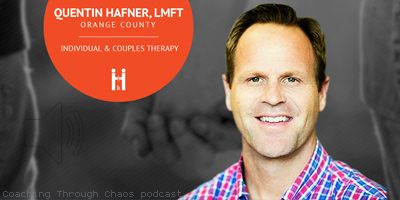 Podcast: Play in new window | Download (43.6MB)
Subscribe: Apple Podcasts | Android | RSS | How to Subscribe
Quentin Hafner, LMFT
Preserving intimacy is a tough chore for many couples, but particularly when couples enter the baby-making stage of their relationship it can become quite difficult.  Quentin Hafner is a licensed Marriage & Family Therapist in private practice in Costa Mesa, CA where he specializes in couples therapy and working with Dad's and husbands.
In particular, Quentin loves working with couples that have young children and are striving to navigate this difficult life-state transition.  Quentin is living his own work and through his own experience and education has come to greatly understand the inner workings of how relationships can change once baby (or babies) come along.
Preserving Intimacy when Children Enter your Life
In this episode you will hear:
How Quentin's experience informs his own work.
Why pregnancy can add stress to a relationship
3 Things every 1st time expectant couple should anticipate
If there really is a "best time" to have a baby
The biggest obstacle to relationship satisfaction in the early months of parenthood
How couples can  keep their sex life alive when they have n infant or a toddler int he home
Why taking time away from the baby or the kids is so important to preserving intimacy
How parents can find creative ways to get sitters they trust so they can have some couple time
Want to learn more?  Quentin has a special offer for Coaching Through Chaos listeners
On July 1st, 2016 Quentin is launching his online workshop "Re-Connecting Marriage Workshop; an 8-week online marriage workshop for parents with young children".  When you register for this workshop and mention Coaching Through Chaos, you will receive a 50% discount off the cost of it! How great is that?!
Resources
Website:
Workshop Site:
---
Amazon has selected the following suggestions that may also interest you