Bonnie Bergin
~ creator of the service dog, she shares with us compelling stories of their origin and history, as well as the current initiative Paws for Purple Hearts - in which Veterans train service dogs to assist fellow Veterans in need.  Paws for Purple Hearts  is a 501(c)(3) charitable organization - and you can help by donating or even patting puppies...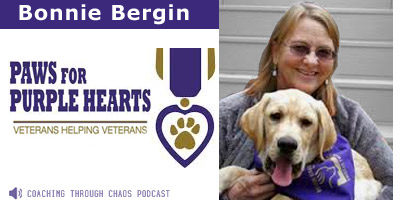 Podcast: Play in new window | Download (57.9MB)
Subscribe: Apple Podcasts | Android | RSS | How to Subscribe

The Origin of the Service Dog
Bonnie Bergin is the inventor of the current day service dog. Through her world travels working as a teacher in other countries, Bonnie witnessed how other countries treated their physically disabled people differently than here in the U.S. at the time. She saw that the expectation in other countries, especially the Asian countries were that their disabled people were more likely to be actively participating in society whereas, at the time, physically disabled people were often being cared for by others here in the U.S. (either in-home care or hospital care). Bonnie didn't know how, but she wanted to change that. Somewhere in her travels she witnessed donkeys helping physically disabled people get work done. Bonnie imagined that dogs could help people in similar ways in the U.S. She had no experience in dog training, but she felt in her heart that it would not be unreasonable to think dogs could be trained to help physically disabled people in their day to day tasks. Hence, the birth of what we know today as the "service dog".
Where they train the dogs
When Bonnie began to train dogs, she set out to do it differently than the norm of the time. She was a teacher and implemented positive reinforcement as she did with her students rather than the standard "aversive" training using choke chains and other methods. Bonnie started with wanting to connect with the local disabled population. She reached out to the office of Disabled Service in Santa Rosa California and found her first client/trainee. Her name is Carrie – she was a quadriplegic with very physically limiting circumstances. Carrie volunteered to let Bonnie train the first dog to help her. (You can hear the full story in the podcast). Bonnie has since developed Bergin University of Canine Studies which offers both a Bachelor's and Master's of Science in Canine Studies.
The birth of a new program to help our veterans
Paws for Purple Hearts was founded in 2006. Bonnie set out to develop a program that provides well-trained service dogs to our veterans with either physical or emotional limitations, such as PTSD, that prevent them from being able to function fully in their life. In the case of physical limitations, the dogs function as a helper, they can turn on light switches, pick up the remotes or their phones, and even retrieve their lunch from the fridge. In the case of clients with PTSD, the dogs help the client sleep better, feel capable of leaving their home to venture into the community when they may have previously chosen to be socially isolated, relieve depression symptoms through the camaraderie they feel with their dog. The dogs are trained by hospitalized veterans. Bonnie says that it gives those patients a sense of meaning and purpose again while they are working on living with their physical setbacks.
Therapeutic Benefits of Service Dogs
• Relief of depression
• Improved sleep
• Decreased social isolation
• Increased capacity for a full range of emotions
• Decrease in drug and alcohol abuse
• A sense of safety in their (the client's) environment
• Increases re-connection with the client' community (they leave their home, will interact with people in their community)
• increased patience, impulse control, emotional regulation
• decreased dependence upon pain medications
• greater sociability and a more positive outlook
• a mission-driven focus and renewed sense of purpose
• a decrease in emotional numbness
• decreased startle responses
• improved parenting skills and family dynamics
Who qualifies for a Paws for Purple Hearts service dog?
Any veteran with a physical or emotional disability. The only rule out criteria would be if they were not able to sufficiently care for and feed the dog. This is determined by the potential recipient's medical doctor (i.e. if they are not physically mobile, they will want to know that the potential client has an attendant that can feed the dog every day). When they speak of emotional disability, we are referring to symptoms associated with Posttraumatic Stress Disorder, Major Depressive Disorder and any other mental health issue developed out of their military service.
How is Paws for Purple Hearts Funded?
Paws for Purple Hearts (PPH) is a 501(c ) (3) non profit. They survive solely on the generosity of others. The program is absolutely free to the recipient veterans.
Can I get a service dog from PPH if I qualify but don't live near a center?
Yes. In many cases, funding may be available to fly the recipient to PPH to be paired up with their service dog.
What's next for Paws for Purple Hearts?
Bonnie has PPH's sites set on opening a location in San Diego. She reported that she is seeking a location that is not on VA hospital grounds so that it is more accessible to non-hospitalized recipients. There are currently locations in northern California and Virginia. Bonnie hopes the San Diego location can become a reality by the end of 2015. Here at Coaching Through Chaos we hope so too!
How do I get involved with Paws for Purple Hearts?
In addition to donations, Paws for Purple Hearts can always use some extra hands. For as much as the veterans do the training in the hospital, the PPH puppies need to be played with and human-to-puppy touch is a critical part of their development. If you think you'd love to pet a puppy for a while and help out our vets at the same time, please reach out. You can find PPH at PawsforPurpleHearts.org. Of course, they will welcome any financial donation you can make. When you are on their website, check out their Amazon.com wish list to help out that way too.
Resources
Bergin University of Canine Studies: If you've ever wanted to study canine behavior, this is the place for cutting edge training.
Read PPH Director Rick Yount's statement for the record in support of
H.R. 198, the Veterans Dog Training Therapy Act and
H.R. 1154, the Veterans Equal Treatment for Service Dogs Act -
as presented to (http://veterans.house.gov/prepared-statement/prepared-statement-rick-yount-director-paws-purple-hearts) the House Committee on Veterans Affairs (http://veterans.house.gov)
'Paws for Purple Hearts' Helping with with PTSD  -  Alexandra Hemmerly-Brown
www.army.mil  ( 08 Feb 2011)
'Through Airmen's eyes: Chief discusses how family, pet help PTSD issues' - Staff Sgt Amanda Dick, Air Force Public Affairs Agency
http://airforcelive.dodlive.mil/tag/paws-for-purple-hearts( 29 Nov 2012)
---
Puppies from Paws for Purple Hearts