Melanie Notkin
  ~ Author of Otherhood and Savvy Auntie discusses circumstantial infertility and the growing demographic of PANKs in this Auntie's Day special edition. In your 20s, if you dreamed of finding a partner and creating a family, and your life didn't exactly go as planned leaving you single and not wanting to have children without a partner, listen in – you'll find you are not alone…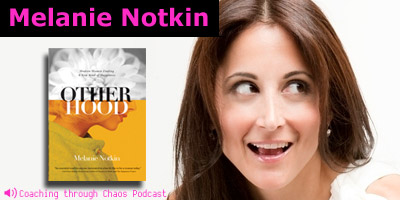 Podcast: Play in new window | Download (41.5MB)
Subscribe: Apple Podcasts | Android | RSS | How to Subscribe

Move over Punks, the PANKs are here!
People are remaining unmarried longer today than they ever did before. Sure, sometimes this is by choice, but very frequently, both men and women report just "not having found the right person". This leaves a few million people single well into their 30s and early 40s without children. My guest today calls that "circumstantial infertility".
Melanie Notkin
's best-selling book, "
Otherhood: Modern Women Finding a New Kind of Happiness
" chronicles her personal experience of being single in her 30's when what she really wanted was to be married and creating children. Melanie and thousands more women (and men) are holdouts for the traditional life where we get married then make decisions to have babies. In a longitudinal study published in 2012, over half the babies born to women under 30 were born to single mothers. There was another study in 2012 that reported that 1 in 5 adults over age 25 had never been married (
pewsocialtrends.org
). We live in a society when, if we are otherwise healthy, getting pregnant is not all that difficult. Even when we find ourselves alone in our 30's, if we've got enough money, we can get pregnant outside of a committed relationship or participate in donor insemination and start our family without a mate. Many of us can even afford to raise a child on our own if we want. That's not the issue with circumstantial infertility though. Circumstantial infertility is when the only reason you are not having a family is that you don't have the partner to create one with and you do not want to create a child outside of marriage. Melanie's book tells stories of conversations she had with both male and female friends who were in their 30's and early 40's contemplating their options for having a family. Melanie had already started the conversation by launching her
SavvyAuntie.com
website. On SavvyAuntie.com, women can find community and information that when we are childless, we can feel left out. I say "we", because I was part of the circumstantial infertility club, although I am now childless by choice in my mid 40's. I am definitely "Auntie" to a few special  children in my life, but childless women in their 30's are left out of conversations about child-rearing or developmental milestones as if we don't want to participate. Most of us would love to participate but don't get the chance. Melanie shares about her own dilemmas about whether or not to freeze her eggs "just in case". The book highlights the vulnerability that arises when we otherwise have control of many things in our lives, except finding a partner and having a family. Throughout the podcast, we cover:
The story behind "Otherhood"
What is a PANK?
The frustration between what some women want in life and what they actually find
The vulnerability of coming to terms with one's circumstantial infertility
My own personal experience with being part of the Otherhood
The assumptions that are sometimes placed on "older" single women (& men)
Grieving the loss of being able to make biological children in a committed partnership
Melanie's own vulnerability and decision making process as she moved through her 30's
Melanie explains the Savvy Auntie community
Target marketing the Aunties and PANKs in the world
(Melanie joins me in the episode at 9:56)
Happy Aunties Day!! 
From your host, Colleen Mullen, and the team at the
Coaching Through Chaos Podcast
:) Resources:
Melanie Notkin's website
- to keep up with all that Melanie is doing for the Otherhood.  You can also contact her there for marketing consults and speaking engagements.
The Savvy Auntie website
- here you can become part of the SavvyAuntie and PANK community.  You can also keep up with current trends in learning, books, entertainment and resources for the special kiddos in your life.
Otherhood
on Amazon.com
Savvy Auntie
on Facebook - Be part of the fun community of fantastic Aunts and PANKS here!
Circumstantial Infertility @huffingtonpost.com