Eric Zimmer
The One You Feed
 Do you know the Cherokee parable about "The Two Wolves"?
A grandfather is teaching his grandson about life. "A fight is going on inside me," he said to the boy.
"It is a terrible fight and it is between two wolves.
One is evil – he is anger, envy, sorrow, regret, greed, arrogance, self-pity, guilt, resentment, inferiority, lies, false pride, superiority, and ego."
He continued, "The other is good – he is joy, peace, love, hope, serenity, humility, kindness, benevolence, empathy, generosity, truth, compassion, and faith.
The same fight is going on inside you – and inside every other person, too."
The grandson thought about it for a minute and then asked his grandfather, "Which wolf will win?"
The grandfather simply replied "The one you feed."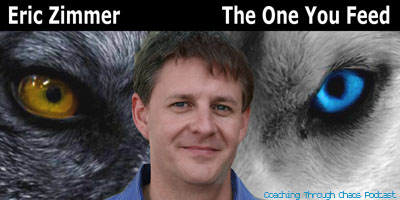 Podcast: Play in new window | Download (43.3MB)
Subscribe: Apple Podcasts | Android | RSS | How to Subscribe

---
My guest today  is Eric Zimmer.  Eric and his best buddy, Chris Frobes started The One You Feed podcast in early 2014 and it has quickly risen in popularity.  The One You Feed  features guests each week who educate the audience through their conversation with Eric.  The conversations always start with a question about how the guest's internal good and bad wolf influences them.  He's had experts in the fields of neurosciences, mindfulness, spirituality, wellness and personal fitness on.  They are 96 episodes in an counting with close to 2 million downloads.  That being said, maybe you don't need to be told any of this because you're already a fan.
"The One You Feed" podcast was rated #1 by iTunes in 2014.  That's great and all , but why is Eric on The Coaching Through Chaos Podcast? Don't I feature people who will "inspire, motivate and empower you"? Well, in fact, this episode marks the first in what will be a recurring series of episodes in which I bring a story of resiliency and triumph over life's hardships, losses or mishaps.  Eric has a story to tell that I think is worth hearing.  Eric's life took him from the depths of despair and homeless in his addiction to entrepreneurship and now to a place of bringing help, and hope, to others.
In this episode you will hear Eric and I discuss:
What helped him save himself from addiction
What keeps him clean and sober today
How he took a risk at a critical time in his life and how it paid off for him
Where he first heard the parable of The 2 Wolves and how the podcast came to fruition
What 2 lessons he learned from his guests that he applies to his own life
How he fights self-doubt when it comes creeping up on him
What he hopes his audience takes away from listening to The One You Feed
What's in the future for The One You Feed
How he takes care of himself in the midst of doing so much for others
Eric has come a long way in his life and he demonstrates a resiliency and self-awareness that seems to keep him in check.  He won't forget where he came from and he can appreciate how far he's come. 
It was my pleasure to converse with  him on The Coaching Through Chaos Podcast.
Wolf Awareness Week 2015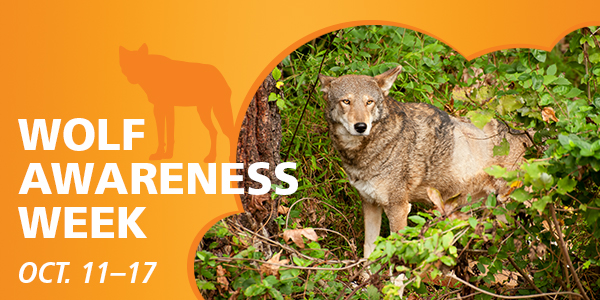 Few species are as historically vilified, as ecologically valued, and as continually controversial as wolves. Despite the vital role they play in many of our native ecosystems, wolves were nearly eliminated in the U.S. by relentless hunting and predator control programs determined to wipe them out. This interview was released to coincide with National Wolf Awareness Week (the third week in October), a time set aside to celebrate these important animals, highlight the threats to their survival, and spread the word about what can be done to help wolves stay protected and help humans learn to live alongside them. Find out more at Defenders of Wildlife.