Jocelyn Lehrer, ScD
~  Founder/Director of the Men's Story Project, Senior Research Associate at the University of California-San Francisco Bixby Center for Global Reproductive Health and Lee Institute for Health Policy Studies.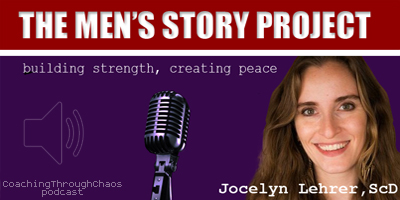 Podcast: Play in new window | Download (48.2MB)

Subscribe: Apple Podcasts | Android | RSS | How to Subscribe

Machine Transcript & Video:YouTube


The Why...
The Men's Story Project originated in 2008 to help community groups create live story-sharing events, educational films, and other mass media wherein men publicly examine social ideas about manhood through the lens of their own life experience. This came about due to our society's focus on rigid ideas of what a man should be. They found in their research that rigid/dominant views about masculinity are linked in men with problems including homophobia, transphobia, rape-supportive attitudes, sexual and physical violence against women, violence against other men, bullying, behaviors that increase risk for HIV (e.g., condom non-use), higher rates of sexually transmitted infections, substance abuse, and risky driving". What the Men's Story Project does is create a forum for bringing men together to tell stories from their lives of what the male experience truly is – it allows a forum for diversity in norms. It allows for the idea of what it is to "be a man" or masculine to be a reflection of real life, shattering some of the rigid ideas if masculinity which force people into "one size fits all" boxes that clearly do not fit all. The Men's Story Project cites that, "It is increasingly recognized in the public health and social justice fields that working to shift gender norms in support of healthy masculinities is a productive and needed approach to improving health and well-being for all people".
In this episode, you will hear:
The origin of the Men's Story Project.
The response to the productions.
How many events have taken place.
Growth of the project.
How a Men's Story Project comes to life.
What the research shows as the benefits for those participating in the project and those attending the shows.
The workshops available through the Men's Story Project.
What types of groups host Men's Story Projects.
How someone can start a Men's Story Project in their community.
Where to find The Men's Story Project
Website: MensStoryProject.org
YouTube Channel: https://www.youtube.com/user/MensStoryProject
Email:     jlehrer@mensstoryproject.org
Phone:    (415) 217-9875
Videos from The Men's Story Project
Trailer for The Men's Story Project: Building Strength, Creating Peace (California, 2009) - Trailer for first MSP film, highlighting stories of 16 Bay Area presenters
"Man-to-Man Talk" Leroy Franklin Moore - Spoken word piece on intersections of being black, disabled, sexual and beautiful
"Finding the Gift in the Wound"- Aqeela Sherrills - A well-known activist speaks on topics including facilitating the 1992 Crips-Bloods truce in Watts, forgiving the man who murdered his son, and experiencing sexual abuse in childhood.
"Girls' Night Out" Spoken word piece by Yosimar Reyes on being Mexican immigrant, gay, proud and fabulous.
"A Vegetarian No More" - On having witnessed domestic violence as a child and subsequently serving as defense attorney for Deborah Peagler, who was incarcerated for 27 years for contributing to the death of her abuser. Peagler's story is the subject of the award-winning documentary, Crime After Crime, acquired by the Oprah Winfrey Network.
"The Violence of Masculinity" Version 2 - Galen Peterson - On the journey of reflection and change after perpetration of violence against other men, his girlfriend and himself
"Menace to Society" - Fahamu Pecou. On feeling subject to and then rising beyond low societal expectations for black men (starts at 28:00; Emory University production)
"Leviticus" - Terry Taplin - Spoken word piece challenging homophobia in the black community
"Cousins are Cool"  - Mack Dennis - Spoken word piece from a former member of the Black Panthers on unlearning homophobia in adulthood "Propaganda" - L. Abdul Kenyatta - Challenging stereotypical notions of black masculinity (Featured in today's Podcast Episode)
Trailer for The Men's Story Project: Out Loud! (Chile 2013) Trailer for Chilean MSP film, sponsored by Amnesty International
"The Truth Will Set Us Free" (subtitled) - A man from rural Chile discusses having become a celibate missionary so as to "heal himself" from being gay, and finally accepting himself, leaving his missionary post, and coming out to family
"Man Up -Drain the Main Vein"- A lighter piece on men's posturing and projections of toughness
"Masculinity in my Own Words" - A young man discusses telling his parents that he is gay and HIV-positive, and finding his own strength and path.
---
Amazon has selected the following suggestions that may also interest you
How you can support the Coaching Through Chaos Podcast
If you would like to support our podcast, there are 3 ways to do this, the first 2 are absolutely FREE! :)
1. Leave us a review on iTunes
This helps us stay on the What's Hot pages and lets people know that others are enjoying what we are producing. We will pick a review each episode to read on the air - I'd love to read yours!
2. Share an episode with a friend or on your social media
All it takes is a click on the Share button - little effort from you, with big return for us in that we then get to reach more people that otherwise wouldn't know about us if not for their connection to you! Thank you!
Do you know Patreon? It's a fundraising site for creative projects. At Patreon you can support us with a monthly donation of as low as $1.00/month. When you donate at least $5.00/month, you start to receive rewards from us which range from a shout out on an episode, or a Coaching Through Chaos T-Shirt, or Skype conversations with me! It all depends on the amount of your donation. Please do check it out. We appreciate any support you can give.
Want to be a Guest on the Show?
We always welcome suggestions for guests. We cover all aspects of life to help inspire, motivate and empower our audience.
Popular topics are:
Relationships
Health and Wellness
Entrepreneurship
Psychology-related topics (PTSD, Personality, Emotion Management, Stress Management, help for Depression, Anxiety, Fear/Phobias, OCD, Childhood Disorders, Self-Actualization)
Parenting and Family Life
Personal stories of overcoming tremendous hardship/stories of resiliency
Organizations who support military personnel (active or retired), fire-fighters, or law enforcement.
If you have authored a book, are a recognized expert in your field, have built your business from the ground up and have a good story to tell about it, run an organization you wish more people knew about, contact me! I'd love to hear from you to discuss how we can feature you on the show.
Thank You!
Thank you for all your support thus far. Dr. Be and I do this to with our only motivation as helping others while keeping our own knowledge base fresh. To our guests - well, we could not do what we do without you and you all have been so generous with your time and energy. To our audience, over 5,000 of you have listened so far and the numbers continue to grow each week. We are grateful and honored to be part of your world. Until next time - If you have chaos in your life, I hope you are finding your way through it. Take care.