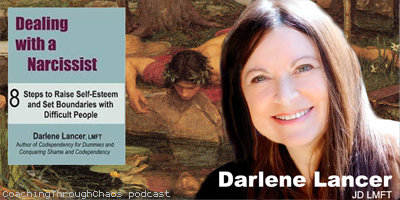 Podcast: Play in new window | Download (52.4MB)
Subscribe: Apple Podcasts | Android | RSS | How to Subscribe
The topic of narcissism seems to be all the rage of popular fodder on the internet and the pop news shows these days. But what they are really referring to is our "selfie generation", the millennials vying for attention on social media. They have really mislabeled an entire generation of people.
Today we are exploring what it means when you find yourself in a relationship with a true narcissist. My guest today is Darlene Lancer, JD, LMFT.  Darlene first joined me in Season 1 to discuss how to help yourself to break codependent behaviors in relationships. That episode is still one of our most popular to date. Please check it out if you haven't already. A natural progression for her work with codependent people turned to exploring narcissism.
Why would this be a natural progression you may ask? Well, when someone is codependent, they sacrifice their emotional needs for those of their loved ones, often taking on a care taking role with a partner. It is not uncommon for these people to find themselves in relationships with alcoholics or drug addicts, as these people need to be taken care of in many ways and they are often unable to meet their partner's emotional needs due to their addictions. Narcissistic people would also have a tendency to attract codependent people as they are consumed with their own grandiosity and keep people close to them who do not challenge them to meet their emotional needs, allowing the focus of the relationship to remain on them and what they want.
Darlene's latest book, "Dealing with a Narcissist: 8 Steps to Raise Self ­Esteem and Set Boundaries with Difficult People" explores the emotional upset that can happen when one finds themselves in a relationship with a narcissistic person.
What is Narcissist?
A narcissistic person is one who meets diagnostic criteria as set forth in the "diagnostic and Statistical Manual (DSM­5)" which is the manual the medical and mental health field use to diagnose patients. It is NOT just a term used to describe someone who is self ­focused on social media.
DSM­5 criteria for narcissistic personality disorder include these features:
Having an exaggerated sense of self­ importance
Expecting to be recognized as superior even without achievements that warrant it
Exaggerating your achievements and talents
Being preoccupied with fantasies about success, power, brilliance, beauty or the perfect mate
Believing that you are superior and can only be understood by or associate with equally special people
Requiring constant admiration
Having a sense of entitlement
Expecting special favors and unquestioning compliance with your expectations
Taking advantage of others to get what you want
Having an inability or unwillingness to recognize the needs and feelings of others
Being envious of others and believing others envy you
Behaving in an arrogant or haughty manner
Although some features of narcissistic personality disorder may seem like having confidence, it's not the same. Narcissistic personality disorder crosses the border of healthy confidence into thinking so highly of yourself that you put yourself on a pedestal and value yourself more than you value others. (http://www.mayoclinic.org/diseases-conditions/narcissistic­ personality ­disorder/basics/symptoms/con­20025568)
Finding oneself in a relationship with a narcissist can be an emotionally draining and painful experience.
In this interview, Darlene and I dig deep into what the dynamics of that relationship can look like, communication strategies that can be effective for expressing your emotional needs and how to take care of yourself emotionally.
What's Coming Up?
Next up on The Coaching Through Chaos Podcast is my interview with Zander Keig. Zander is one interesting guy – and not just because he used to be a girl! Watch for that episode on July 19
Shrink2Shrink: It's like Siskel & Ebert with a psychological twist!
My latest venture in podcasting has been the launch of the Shrink2Shrink show with fellow podcaster and therapist Courtney Calkins of the Quadcast Podcast. Courtney and I dissect the psychological aspects of popular movies. As of today, we've explored "Gone Girl", "Train Wreck", "Inside Out", "The Martian" and "Creed". You can check out a sampling of it right here.
Follow & Subscribe
You can follow me on Twitter @DrColleenMullen
You can subscribe to the Coaching Through Chaos Podcast on iTunes at chaos.tips/itunes
You can subscribe to Shrink2Shrink on iTunes here
If you want to stay updated and get some cool tips on living a positive life, sign up for my mailing list at https://coachingthroughchaos.com/mailing­list/ When you sign up for the emailing list, you'll receive a free copy of my ebook: "5 Ways: 100 Tips for Living a Happier, Healthier Life"as my Thank You to you!
Resources on Darlene Lancer and Narcissism
Darlene's website: DarleneLancer.com and WhatisCodependency.com
Get the Book: Dealing with a Narcissist: 8 Ways to Raise Self­Esteem and Set Boundaries with Difficult People
Mayo Clinic: Narcissistic Personality Disorder
The New York Times: The Self(ie) Generation
---
Amazon has selected the following suggestions that may also interest you