Dan Franks
 ~ Co-Founder of Podcast Movement, tells us about the upcoming event in Chicago, July 2016...
July 6-8
Chicago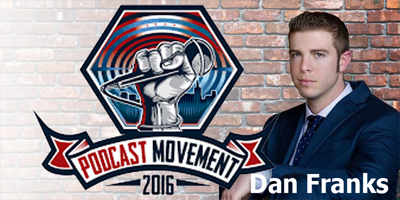 Podcast: Play in new window | Download (52.5MB)

Subscribe: Apple Podcasts | Android | RSS | How to Subscribe

Machine Transcript & Video:YouTube

Podcasting is still so unknown…..
I launched this podcast in May of 2015, but I was already a fan of many podcasters. I didn't realize how my knowledge of the podcast world set me quite a bit ahead of my peers. You see, podcasting is a fast-growing broadcasting medium that so many people still don't really know how to navigate or just what jewels they'll find in the sea of titles. Podcasting is a way to have a voice publicly to bring information, education, humor and help to so many. I always wanted my own radio show and podcasting was my way of going ahead and bringing my idea to life without having to worry if someone would sponsor me or give me a paycheck for it (I, of course, would like to have those things, but I was able to get started without them). I spend so much of my free time listening, learning and laughing in the podcast world, it still surprises me when I end up explaining to a friend just what a podcast is or why they should be interested in them.
3 Guys with an Idea…
My guest today on The Coaching Through Chaos Podcast is Dan Franks – he's a guy that, to say the least, wears many hats in life. Among other things, he's a podcaster, a marketing professional, an entrepreneur and a visionary. He and a couple of buddies had an idea that came together through a podcasting meet-up. They had an idea for creating a podcasting community – by podcasters, for podcasters. This idea has since become Podcast Movement. Podcast Movement launched as a small conference for podcasters in 2014. They had a few hundred people in attendance in a really small, hot venue in Texas. The conference has grown so much that there are expecting a few thousand people in attendance for 3 days at the 4-star Hyatt Regency in Chicago this July 6-8. I know I can't wait to get there!
What you'll hear in today's interview:
How Dan & his buddy found the courage to develop their own podcast (the Entrepreneur Showdown)
When his entrepreneurial spirit ignited
The importance of differentiating yourself as a podcaster
How  3 guys talking at a media conference led to the birth of Podcast Movement
How Podcast Movement has grown
Who Podcast Movement is for
Some cool stories about his experience coordinating the conference
What to expect from this year's conference
My experience of being part of the podcasting community (a little love-gushing on my part!)
The coolest thing Dan experienced at the first Podcast Movement in 2014.
How uber-famous podcaster Marc Marin was just one of the crowd when he attended in 2015.
How Podcast Movement highlights not only the biggest podcasters but also the lesser-known podcasters who are producing unique shows
What Dan is looking forward to most at this year's event
What happens at Podcast Movement?
Podcast Movement 2016 is for the actual podcasters. There are over 80 breakout sessions with some well-known, and some who should-be-well-known podcasters that will be chatting about either what they do or on a specific topic around podcasting. There will be sessions on launching your show, monetizing it, recording quality, equipment, marketing and anything else you can think of pertaining to having a successful cast! There are so many sessions I'm looking forward to in addition to mixing and mingling with other like-minded people for a few days in a great city. There's also going to be some pre-conference workshops and for those that are registered for the live conference, they will also be able to get access to all the sessions online without paying extra. Most podcasters have some aspect of what they do that they want to learn more about. I know I do!
Now, this conference is like many other conferences with keynote speakers and high-profile people in the industry. In today's episode, Dan tells a great story of how Marc Marin participated at Podcast Movement 2015 right after he made history as the first podcaster to interview a sitting president. This year, they've got Kevin Smith, who many people know and love from Jay & Silent Bob movie fame – he's also a podcaster and will be a keynote speaker along with Alex Blumberg, from the very popular "Startup" and Gimlet Media production company. There's going to be so may people – you can get a look at the over 100 speakers already confirmed right on the Podcast Movement website.
Where to get tickets to Podcast Movement 2016?
The website: PodcastMovement.com
If you're new to The Coaching Through Chaos Podcast, discover what you missed, how to support us, and a new show on the horizon!
Season 1
If you missed Season 1, you can find it here: https://coachingthroughchaos.com/podcast-season-1/
Listen on iTunes
If you prefer to listen on iTunes, here it is: Chaos.tips/iTunes
Support Us
If you would like to support our podcast, there are 3 ways to do this, the first 2 are absolutely FREE! :)
1.  Leave us a review on iTunes
This helps us stay on the What's Hot pages and lets people know that others are enjoying what we are producing. We will pick a review each episode to read on the air - I'd love to read yours!
2. Share an episode with a friend or on your social media
All it takes is a click on the Share button - little effort from you, with big return for us in that we then get to reach more people that otherwise wouldn't know about us if not for their connection to you! Thank you!
Do you know Patreon? It's a fundraising site for creative projects.  At Patreon you can support us with a monthly donation of as low as $1.00/month.  When you donate at least $5.00/month, you start to receive rewards from us which range from a shout out on an episode, or a Coaching Through Chaos T-Shirt, or Skype conversations with me!  It all depends on the amount of your donation.  Please do check it out.  We appreciate any support you can give.
Want to be a Guest on the Show?
We always welcome suggestions for guests.  We cover all aspects of life to help inspire, motivate and empower our audience.
Popular topics are:
Relationships
Health and Wellness
Entrepreneurship
Psychology-related topics (PTSD, Personality, Emotion Management, Stress Management, help for Depression, Anxiety, Fear/Phobias, OCD, Childhood Disorders, Self-Actualization)
Parenting and Family Life
Personal stories of overcoming tremendous hardship/stories of resiliency
*Organizations who support military personnel (active or retired), fire-fighters, or law enforcement.
If you have authored a book, are a recognized expert in your field, have built your business from the ground up and have a good story to tell about it, or run an organization you wish more people knew about, contact me! I'd love to hear from you to discuss how we can feature you on the show.
A New Show is coming from Colleen!
In April 2016, check out Shrink2Shrink.com where Colleen joins fellow therapist and podcaster Courtney Calkins to talk all things relationship through through lens of popular movies.  On the last day of each month, they'll launch a new episode - this one is strictly for fun!
Thank You!
Thank you for all your support thus far.  Dr. Be and I do this to with our only motivation as helping others while we keep our own knowledge base fresh.  To our guests - well, we could not do what we do without you and you all have been so generous with your time and energy.  To our audience, over 6,000 of you have listened so far and the numbers continue to grow each week. We are grateful and honored to be part of your world.
Until next time - If you have chaos in your life, I hope you are finding your way through it.  Take care.
---
Amazon has selected the following suggestions that may also interest you