Alan Brown
~ founder and host of Crusher™TV and the award winning ADD Crusher video series.
What is CrusherTV?
Crusher™TV is a weekly online TV hosted by "Mess to Success" entrepreneur and productivity coach Alan Brown.  He and his A-List guests deliver life-changing solutions to a members-only audience. This show is meant to help the "crazy-busy" people - and who isn't crazy busy these days?!?
Each week  Alan and his guest experts share brain hacks and other simple solutions to turbocharge your productivity and quality-of-life: Crush procrastination. Get more stuff done. Have more free time. Just to name a few.
But it's more than just the TV show that makes you more productive. Crusher™TV members enjoy loads of other benefits...click here for more info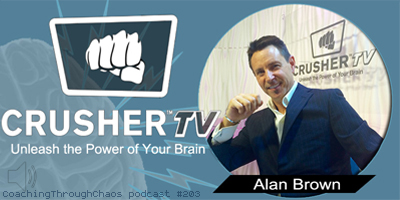 Podcast: Play in new window | Download (44.5MB)

Subscribe: Apple Podcasts | Android | RSS | How to Subscribe

Machine Transcript & Video:YouTube


Alan teaches people how to quiet their mind AND power it up!
In this episode
Alan shares:
His "Mess to Success" story.
The story of how getting a diagnosis of ADD when he was 35 years old changed his life for the better.
 3 brain hacks you can use right now in order to crush ADHD and become more productive.
 Tells us about how he became the ADD Crusher.
 2 common themes in the lives of people who have trouble focusing.
 Why people get stifled around productivity and focus.
 The benefits of becoming a member of Crusher TV (its more than just a TV show!)
 Who can benefit from the ADD Crusher video series.
Resources:
Twitter: @RealCrusherTV
To find Alan Brown and CrusherTV just go to CrusherTV.com
For the ADD Crusher video series, check out ADDCrusher.com
For FREE videos and Previews of Crusher TV episodes, including one with yours truly (episode 11) check out the ADD Crusher You Tube Channel