Stewart Levine
 ~ transitioned from lawyer to abundance thinking conflict resolution expert, he reviews for us  some of his methods to resolve conflicts that may occur at home or at work. His approach is refreshing and has garnered him an extensive corporate clientele who benefit from learning his methods for Resolutionary Thinking. You can too...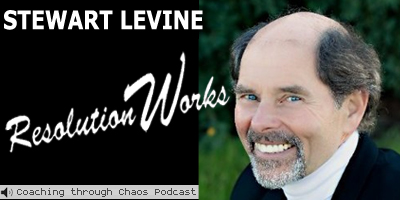 Podcast: Play in new window | Download (41.4MB)
Subscribe: Apple Podcasts | Android | RSS | How to Subscribe

Who is Stewart Levine?
Stewart Levine was an attorney who discovered early on in his practice that he was much better at getting the opposing sides to collaborate and agree on a settlement than having him fight and hold a position until he "won". This led him to re-evaluate his career path. He went on to become a marketing consultant at AT&T where he saw that "the reason collaborations fall apart is that people do not spend the time at the beginning of new working relationships to create clarity about what they want to accomplish together, and how they will get there". This eventually led him to document his observations and theories on conflict resolution. He originally wrote "Getting to Resolution: Turning Conflict into Collaboration" in 1998 (the 2nd edition came out in 2009). When "Getting to Resolution" came out it was named one of the Top 30 Business Books of the year. Stewart's models for problem solving, collaboration and conflict resolution are used in many Fortune 100 Organizations and have been endorsed by countless thought leaders including the House Judiciary Committee; 3M; American Express; Chevron; Con-Agra; EDS; General Motors; Harvard Law School; Oracle; Safeco; University of San Francisco; U.S. Departments of Agriculture; Navy and many others.
Why is it so important to be able to resolve conflict efficiently?
Conflict presents itself in all of our lives at some time. Sometimes with think we need to fight it out, other times we wish we had a solution for the problem. Models of conflict resolution are so needed. It's also more than likely that you have experienced a conflict in your workplace at some time in history. CPP, Inc. (the people that brought us the Meyers-Briggs personality Assessment) commissioned a study in conjunction with OPP, Ltd. to shed light on the nature of workplace conflict. It was conducted over nine countries, surveying over 5,000 employees. They looked specifically at any workplace disagreement which disrupted the employee's workflow. Some of their findings are that: - Almost 25% pf people surveyed stated that they took time off of work through unplanned sick leave in order to avoid a conflict in the workplace. - There are estimates that companies lose approximately $700 per employee per year due to conflict avoidant behavior (either through sick time off or lack of productivity). - 85% of employees experience conflict in the workplace at some time in their career. - U.S. employees spend 2.8 hours per week dealing with conflict, equating to approximately $359 billion in paid hours in 2008. The study found, and confirmed their hypothesis, that ineffectively managed conflict is costing businesses millions of dollars per year. Yet, on the flip side, they found that if harnessed correctly, the conflict can "stimulate progress in ways harmony often cannot".
The Value of Resolution
Stewart points out very clearly that conflict has both emotional and monetary costs for those involved. He posits that productivity and satisfaction in both business and personal relationships comes from our ability to collaborate with others. Being able to resolve conflicts through collaboration in one's personal life leads to more satisfying and open relationships. Some of the benefits of resolving conflict in the workplace are:
Improved teamwork
Motivating participation
Using resources effectively
Communicating more effectively
Building self-managing, high-performance team
Fostering an environment of learning and growth
Promoting continual improvement
Stewart's Method
Stewart's perspective, which can be applied both inter-personally and in the corporate culture, creates room for discussion and a step-by-step process for resolution through collaboration. He seeks through his Agreements for Results to get people quickly back to a productive mode when working relationships have broken down. Stewart is a very strong believes in creating a culture of agreement and resolution; a culture of collaboration is born out of his model. For Stewart, getting to resolution begins with his "10 Principles of Revolutionary Thinking" and involves his 7-Step guide to crafting the resolution. He breaks down the principles and the steps very succinctly and makes getting to resolution possibility for everyone. If you've been struggling with how to resolve a conflict, or have been involved in uncomfortable workplace scenarios in which no one wants to get to a resolution, check out Stewart's website ResolutionWorks.com. You can browse his books on conflict resolution including Getting to Resolution. Stewart is also available for speaking engagements ranging from corporate events to smaller, more interpersonal-focused settings.
Resources:
ResolutionWorks.com : You can find information about Stwert Levine - his work, books, how to hire him.
"Workplace Conflict and How Businesses Can Harness it to Thrive", CPP Global Human Capital Report, July 2008