Zander Keig, LCSW 
shares with us his experiences, indicative of a deeper causality of discrimination
that taps into a primal fear of 'the other' that transcends race or gender...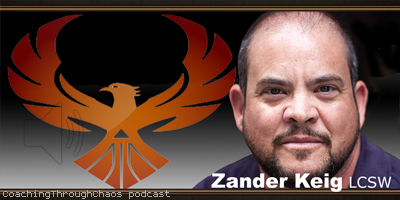 Podcast: Play in new window | Download (92.9MB)
Subscribe: Apple Podcasts | Android | RSS | How to Subscribe
I met Zander
at a friend's house-warming party.  We spoke of working within the government agency system of therapy and had a lively discussion.  I went home and "friended" him on Facebook  - I then discovered my new friend was quite a fascinating person, having lived a life of social advocacy for the LGBTQ population.  It was when I clicked on a link to his website that I saw he was not only an advocate, but a well-respected person in that community who had actually gone through the transition from female to male.
Zander Keig is a unique individual, not only because he used to be a she, but because his life has been one of overcoming tremendous hardships, starting at birth. When Zander was born, the doctor predicted he would be dead, but he was not.  Then when he was 6, he developed encephalitis - he went into a coma and when he awoke, he had to relearn some basic life skills all over again.  Zander's life since then has been a journey of self-discovery and social advocacy.
Zander and I discuss:
His early life struggles and some family reflections
Why he identified with the "separatist lesbian" community and what that meant for him
How and when he began identifying as "trans"
Why he feared Testosterone
How he and his wife created a relaiotnship that has withstood the stress of transitioning
How his education helped him understand those that did not understand him
Why he decided to edit and write books and articles on the subject of transitioning when his own transition is a very private experience
Why trans men are often invisible in our society
How intentionality informs his relationship with his wife
The strange thing that happened when he went from being seen by society as a 1st-generation Mexican-American lesbian to a highly-educated white male - where did his culture go?
The prejudices he experienced both pre and post transition were not what you'd think!
Questions and Comments
Although we have comments turned off this blog in general, Zander welcomes your questions and comments.  Feel free to email me DrMullen@CoachingThroughChaos.com, or leave a comment or a question on my facebook page  and I will be happy to pass it on.
Resources
Zander speaks of some of the books he's edited, the documentary being produced about his life journey and his website.  Here is where you can find those resources:
Website:  ZanderKeig.net
Film: Episodes of Zanderology
Books Zander has been involved in, including Manning Up and Letters for My Brothers can be found here http://www.zanderkeig.net/books
Awkward Correction on my part
I realized when listening back to the produced episode that I was saying "LGBT and trans" when, of course in LGBT the T stands for trans - I don't know why I was saying it that way, but that's how it came out.  To anyone that thinks I was "not aware" - I am, I just speak faster than I think sometimes and it results in awkward verbal trip-ups.
Coming Up on The Coaching Through Chaos Podcast
I just returned from the Podcast Movement conference for podcasters.  I learned a lot and made so many great new friends.  What I learned has led me to decide to make some changes to the structure of what I bring you here at The Coaching Through Chaos Podcast.  The next episode will actually be a re-boot: I will be telling you about my life journey through chaos, what it means to me and why I am doing what I do.  After that, I'll still be bringing you some great interviews, but you will understand more about what that topic means to me and how it might help you better navigate the chaos in your life. My intention is to bring you a high-quality show and that sometimes means to recognize how and when to make changes in what we are doing here.  That next episode launches August 2, 2016.
How do you support us? Subscribe and Review
We've set up the podcast so that you can listen on both Android and Apple devices.  We are currently still on the "What's Hot" pages of iTunes in a couple of categories, but we stay there longer when we have more reviews.  When we stay on those pages, we also get seen by more people looking for great new shows to listen to.  We'd love for you to go to chaos.tips/iTunes and leave us a review.  When you're there, be sure to click "subscribe" and set yourself up for auto-downloads of our future episodes.  On non-apple products, you can listen on soundcloud, tunein.com, stitcher, or maybe you already have the "Podcast Addict" app downloaded on your Android phone - when you're in Podcast Addict, just search for Coaching Through Chaos - you can subscribe right there as well! Thanks for all your support so far!!
OTHER PODCASTS
FOUND
Have you ever found a note on your car, or found one on the street that was intended for someone else?  Well the people at FOUND Podcast by Wondery Media have developed an intriguing new show in which they work on discovering the origins of these notes.  I met the Wondery Media folks at Podcast Movement and I love what they are developing. I wanted to give them a shot out here and encourage you to check them out!
SHRINK2SHRINK: Like Siskel & Ebert with a Psychological Twist!
Have you listened to my friend and fellow therapist Courtney Calkins and I chat about our favorite movies yet on Shrink2Shrink? We launched a new monthly show a few months ago- our current episode is Creed, but we have also covered The Martian, Gone Girl, Inside Out, and Train Wreck! Our next episode launches on the last day of July - we'll be talking all relaiotnship and psych aspects of the fun Disney movie Zootopia! If you grew up watching Siskel & Ebert review the movies like Courtney & I did, you'll enjoy this- you'll definitely know if we liked the movie, but we also ad a psychological component to the discussion.  We pull  out our favorite clips from the movie and then we discuss all the relationship and psychological themes of the scene.  It's been great fun and we appreciate all the love and support we have received so far! Check it out Shrink2Shrink on iTunes.
Until next time.......
---
Amazon has selected the following suggestions that may also interest you