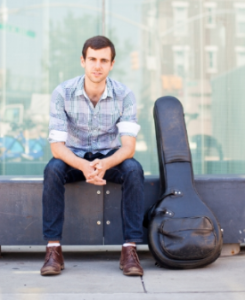 A Shout Out to Bennett Sullivan
from The Coaching Through Chaos Podcast
Here at the Coaching Through Chaos Podcast, we are really thrilled to give a shout out to Bennett Sullivan on his budding success. If you've been listening all the way to the end of our episodes, you'll have heard me say, "I want to thank Bennett Sullivan Music for my theme music". Bennett took an idea we had for theme music and made it come to life for us. For those that don't know, Bennett is an up-and-coming professional banjo player. He has been teaching banjo and creating apps for those wanting to learn how to play (banjo & guitar) for several years.  The apps are called Listen & Learn and you can find them here. On stage, he's been playing professionally with bands and in shows since he was a teenager.  He recently played banjo  on stage with Elle King for her performance on The Tonight Show with Jimmy Fallon.  Currently, he is a part of the cast of the Steve Martin & Edie Brickell play "Bright Star". 
From the Bright Star website:
"Directed by Tony® winner Walter Bobbie, this wholly original new musical tells a sweeping tale of love and redemption set against the rich backdrop of the American South in the 1920s and '40s. When successful literary editor Alice Murphy meets a young soldier just home from World War II, he awakens her longing for the child she once lost. Haunted by their unique connection, Alice sets out on a journey to understand her past – and what she finds has the power to transform both of their lives. Inspired by a real event, BRIGHT STAR is a rare and uplifting story about embracing the truth of who we are, even when it's not what we envisioned."
I had an opportunity to see Bright Star when it debut in its initial run here in San Diego. Bright Star opens on Broadway this month. In addition to this, Bennett has started a video series interviewing musicians for his membership site BennettSullivanMusic.com.  In addition to the paid membership, Bennett offers so much great free information on the site too! Here's the first video to give you a taste of what you'll find. Bennett is interviewing Steve Martin – they even play a bit together! Check out BennettSullivanMusic.com for more information about what he has to offer. Way to go Bennett!! Keep up the great work!!
 Bennett Sullivan Interviews Steve Martin
 Apps