Pam Greene
 ~ the Program director at the Adaptive Sports Foundation shares with us some of the success stories of the program, along with upcoming fundraiser events. We have a special place in our hearts over here at Coaching Through Chaos for people who help those with physical disabilities.  My father was a paraplegic and I witnessed the judgment and assumed inability he would have in getting around.  That's why I'm proud to feature today's guest on the show.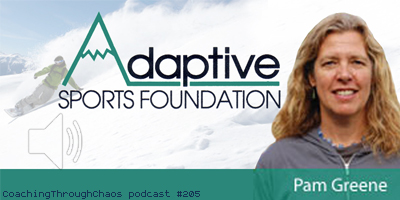 Podcast: Play in new window | Download (49.0MB)

Subscribe: Apple Podcasts | Android | RSS | How to Subscribe

Machine Transcript & Video:YouTube

The Adaptive Sports Foundation in Windham, New York helps differently abled people find their inner strength through various sport training programs.  They have programs that help our wounded warriors and other programs that help kids with various physical or emotional needs.  They are in upstate New York, so they have a good long winter season - that's when they hold their ski training and competitive racing.  In the summer they have fun land activities and festivities.
In this episode, you will hear from program Director Pam Greene.  She will share with us:
The size of the team of volunteers and the scope of people they are able to serve in a day
Some of her favorite stories of people who didn't think they could do much, or who never knew they could succeed.  She shares with us the ways in which helping a differently abled person, child or adult, learn that they can do things they physically didn't think possible can change their life!
How you can get involved with this wonderful foundation
How you can participate in their programs.
Resources:
Website:  Adaptive Sports Foundation
Adaptive Sports Foundation
PO Box 266
100 Silverman Way
Windham, NY 12496
(518) 734-5070 – phone
(518) 734-6740 – fax
info@adaptivesportsfoundation.org
---
Amazon has selected the following suggestions that may also interest you